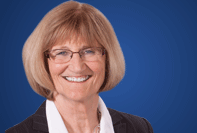 Catherine A. Jacobs advises clients on estate planning and trusts, probate litigation, adoption (adult and child) and child custody issues and transportation law.  She is also a court approved mediator for all civil litigation and family law matters. She is a specialist in facilitative mediation in family situations.
Active in the greater Lansing community, Ms. Jacobs has served on the Alzheimer's Association Corporate Committee, YMCA Metro Board, Girl Scouts of America Finance Committee, Habitat for Humanity Board, Resolution Services Center Board and as a volunteer for Hospice of Michigan.
Ms. Jacobs earned a law degree from the University of Michigan and joined the Loomis Law firm in 1981.  She is a frequent speaker on estate planning law, probate law and legal ethics. She is a distinguished practitioner and a visiting professor at Cooley Law School teaching Wills, Trusts & Estates.
Ms. Jacobs has recently started defending "safe haven therapists" against subpoenas and other court ordered testimony in regard to information received from children/minors through their doctor/patient relationships.
Practice Areas

Professional Memberships

Member, American Bar Association (1981 to present)
Member, Michigan Bar Association (1981 to present)
Member, Ingham County Bar Association (1981 to present)
Member, Fellows of the Michigan Bar Foundation (current)
Member, State Bar of Michigan Standing Committee on Professional and Judicial Ethics (six years of service)
Member, State Bar of Michigan Committee on Multidisciplinary Practices
Member, State Bar of Michigan Probate and Estate Planning Council (six years of service)
Member, Drafting Committee and Legislative Committee for Estate and Protected Individual Code
Member, Drafting Committee for Michigan Court Rules, Probate
Member, Ingham County Probate and Estate Planning Section, Former Chairperson
Former Member, Greater Lansing Estate Planning Council Board of Directors
Member, Alternative Dispute Resolution Section Council, State Bar of Michigan (six years of service)

Recognition & Public Service

Volunteer, Alzheimer's Association, Corporate Committee
Volunteer, Hospice of Michigan
Member, YMCA Endowment Committee (1997 – 2012)
Member, YMCA Metro Board (2008 – Present Chairperson 2013)
Member, Habitat for Humanity, Lansing Board (2009)
Member, Resolution Services Center Board (2005 – 2010)
Member, Girl Scouts of America – Finance Committee (1989 – 1992)
Member, Delhi Township Recreation & Parks Commission (1972 – 1984)
Member, National Ski Patrol (1977 – Present)
Co-editor, Trust Administration in Michigan, ICLE, October 1999
Author, "Spousal Rights," Michigan Probate Litigation: A Guide to Contested Matters,
ICLE, 1998
Author, "Income Taxes of Estates and Trusts, Taxation of Estates and Trusts: A Michigan Practitioner's Guide to Post-Death Administration," ICLE, 1994
Author of "Research Techniques for Every Occasion,"  The Research Edge: Finding Law & Facts Fast, ICLE, 1993
Author and Columnist, Michigan Probate and Estate Planning Journal and The Michigan Bar Journal
Frequent presenter for Institute of Continuing Legal Education (ICLE)

Education

University of Michigan, J.D., 1981
Michigan State University, B.A., 1978
Accounting and Financial Administration
Certificate of Completion: The Probate and Estate Planning Program
Co-Sponsor: Institute of Continuing Legal Education and State Bar of Michigan, Probate & Estate Planning Section