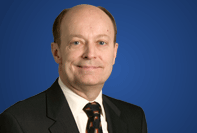 Kenneth W. Beall practices extensively in all aspects of real estate and commercial transactions, with a special emphasis on real estate development incentives (including historic, New Markets and  low income tax credits), syndications and organizations.  Among his clients are tax credit investors, real estate developers, financial institutions and various managers of hundreds of commercial and multi-family properties.  Mr. Beall is experienced in finance, lending, securities and business acquisitions and restructuring.
Mr. Beall dedicates significant volunteer time to the mid-Michigan community, including past service on the Board of Directors for the Capital Area United Way (Chair-2007 and recipient of the Walter A. Campbell Award for Outstanding Volunteerism); the Board of Directors for the Impression 5 Science Center, the Governor's Task Force on Downtown Revitalization – Lansing Committee and Art of Leadership. He currently serves on the National Leadership Council for the Michigan State University College of Music.
Mr. Beall joined the Loomis Law Firm in 1975 after earning his law degree at Duke University.  He is listed in the 2007 – 2015 Editions of Best Lawyers in America, as well as the 2007 – 2013 Editions of Michigan Super Lawyers for Real Estate Law, Tax and Banking, and is recognized as a Leading Lawyer in the fields of Real Estate Law: Commercial, Real Estate Law: Tax and Real Estate Law: Finance.
Practice Areas

Professional Memberships

Member, American Bar Association

Taxation Section
Real Estate Section
Forum for Affordable Housing and Community Development Law
State and Local Tax Committee                                                                                                                            

>

Member, State Bar of Michigan

Taxation Section
Real Estate Section
State and Local Tax Committee
Member, Ingham County Bar Association
Member, Michigan Historic Preservation Network

Member, United States Tax Court

Recognition And Public Service

Named to Best Lawyers in America – 2007-2015 Editions – Real Estate Law
Named to Michigan Super Lawyers –2007-2013 Editions – Real Estate Law
Member, Board of Directors of the Capitol Area United Way (1995 – Present) (2007 – Chair)
Member, Board of Directors of the Michigan State University College of Arts and Letters Alumni Association (2001-2007)
Recipient, Walter A. Campbell Award (for sustained service and leadership in volunteerism) (2001)
Fellow, Michigan State Bar Foundation (1994), American Bar Foundation (2000)
Past director, Impression Five Science Museum
Past board member, Industrial Development Institute of Michigan State University
Past member, Governor's Task Force on Downtown Revitalization, Lansing Committee
Lecturer:

Federal Bar Association
ABA Conference on Affordable Housing and Community Development Law
Michigan Historic Preservation Network
Institute for Professional and Executive Development
Institute for Continuing Legal Education
Michigan Housing Council
Michigan Bar Association
Michigan Rural Development Council
Ingham County Bar Association

Education

Duke University Law School, J.D., 1975
Managing Editor of the Duke Legal Research Program
Undergraduate Michigan State University, B.A. (magna cum laude), 1972                                                                                              

>